"The best results come from careful preparation, and peeling a tomato is no different."
I can hear you now.." as if I need to know this...." One day, you will want this info, mark my words...first up, a bit of background on the infatuation with tomatoes.
For a long as I can remember I loved hanging out with my beautiful nana every Sunday (and days in between) I was able to soak up the best of her knowledge from time honored recipes. I use to stand on a foot stool at the bench with her behind me helping me stir the ingredients, use the electric beater...breaking the eggs and sift the flour, she always knew when I had my fingers in the bowl, but usually chose to look the other way and smile. I loved my Nana.
So often we used to have big BBQ's, with the whole family. The picnic basket would be packed and down into the huge garden we would go, abundant with apricot trees, loganberries, greengages, baby apples, gooseberries, peach & nectarine trees. Some of these many people have never heard of. How lucky I am.
The best memory was enjoying my lamb chop with nana's home made relish. YUM. So much that I had to start making my own relish, to re-kindle the memory of freedom, fun, family. I started with a few jars, quickly consumed them, made some more (lots more) gave some away to friends...then as time went on due to popular demand starting my own small business; The Deli Relish Co. so now I know and would like to share some tips about how to prepare tomatoes.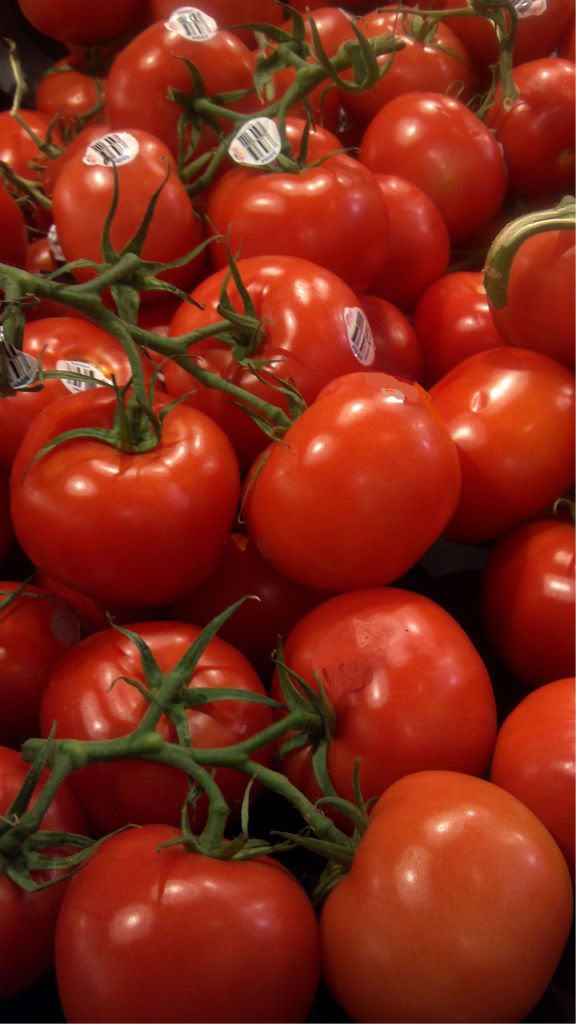 beautiful truss tomatoes
1) You don't need premium A grade tomatoes. These are for restaurants looking for 'ala perfect' examples and will pay top $$ for them. They can sometimes get up to $70 a box (10 kg)...ouch! They believe that to cut the blemish out costs too much in wages... You will pay way too much for 'ala perfect' tomatoes that you just cut up anyway. Go for the ones that are put aside for 'sauces', 2nd's; being a little spoilt or soft.
2) Make sure you get the BIG ones...don't EVER go and buy the little ones, (especially not the cherry's they are all skin) or get talked into it by the shop keeper. Not small, not medium but BIG only.What is perfectly good for the everyday family, is going to take you FOREVER to process, time, effort, power, ice, all costs that you don't need to facilitate.
3) It doesn't matter if they are the ordinary variety or roma tomatoes, if they are not quite ripe enough, leave them in the box for a couple of days, lid on, in a cool spot.
4) Wash your tomatoes in cold water. Fill the sink and give them a bath, you don't know where or what they have travelled in, so do your preparations carefully, don't cut corners.
5) Make a cross on the bottom of each tomato, (that is opposite to the end where the stalk connects) with a sharp paring knife. This will allow the boiling water to penetrate more easily and split the skins.
6) Fill a large pot 3/4 full, and boil. There is no need to salt the water.
7) Get a large bowl and half fill with ice and top up with cold water. This is called an ice bath. This prevents your tomato from continuing to 'cook'. You will need to refresh your ice bath several times as the hot tomatoes will soon heat the water up.
8) You will also need a bowl for the skins and tops.
9) Lower very carefully 5 tomatoes at a time into the boiling water. The skins will start to split open after about 1 minute. When they are significantly split, scoop them up using a slotted spoon and pop them into the ice bath.
10) With not much effort at all the skins should come away from the tomato and they are then ready to be chopped into large pieces and put into a food processor; this is called concasse (con-cas-say).
Tips and secrets..
The big tomatoes will split very quickly so don't get distracted; answer the phone or make a sandwich....the medium tomatoes take forever to split, so long that once I bought 12 kg of them and it took me 3 hours.....arggggg sore feet, wasted time and so frustrated by the end of it that I didn't do the last 2 kg (they were so cheap, it was way too tempting).
***Remember to remove the top, where it connect to the plant or that will spoil the look of your finished product, a lovely puree mix will have dark flecks throughout it.
Now its up to you what you need to use them for; there are many applications from pasata (Italian tomato sauce), just add grated carrots & herbs, freeze for a ready to use base for pasta, lasagne, tomato juice (love Bloody Mary's), homemade tomato soup base.. Freeze into manageable portions, and your food will taste amazing, full of life and you will want to use this method over and over, the results are worth the work.
Useful Links;
Taste.com.au (just when you think you know it all; great tomato based recipes)
Tomato Info
Ricardoes (the best tomatoes on the east coast of Australia)
Better Homes & Gardens (ho

w to grow)
The Deli Relish Co. end results